Transportation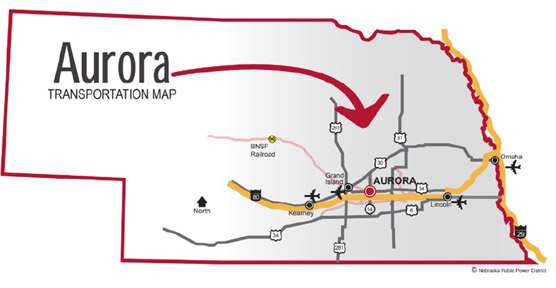 Location/Highways
Aurora is located within 100 miles of the east-west geographic center of the United States. Aurora serves as the county seat of Hamilton County with north-south NE Highway 14 and east-west NE Highway 34 running through town.
Situated in the south-central part of Nebraska, Aurora is 3 miles north of east-west Interstate 80 and 19 miles from north-south US Highway 81. Aurora is 28 miles east of Grand Island, 73 miles west of Lincoln, 124 miles west of Omaha, 262 miles northwest of Kansas City and 421 miles west of Denver.
Rail
The BNSF Railway Company main line serves Aurora with approximately 20 freight trains daily. Switching is completed daily by train crews. For further information regarding BNSF Railway Company, visit bnsf.com.
Air
The Aurora Municipal Airport, located two miles north of Aurora, has a 4,300-foot paved and lighted runway.
Nearest Commercial Air Service:
Central Nebraska Regional Airport, Grand Island 26 miles, 34 minutes
Lincoln Airport, Lincoln 72 miles, 67 minutes
Eppley Airfield, Omaha 130 miles, 121 minutes
Truck Lines
More than 13,500 licensed motor carriers with worldwide connections are based in Nebraska and serve businesses throughout North America. The following trucking map is based on York, Nebraska, 23 miles east of Aurora.