About ADC
Aurora made economic development a priority in 1964 with the creation of the Aurora Development Corporation (ADC).  Over the years this organization has been instrumental in attracting businesses like Love's Truck Stop and Iams Pet Food, now owned my Mars.  The work of ADC has not been limited to attraction, as the group and independent community members have stepped up to invest in many of the businesses locating in and around Aurora.  Examples of this include: build to suit lease agreements on facilities for Syngenta and FedEx.  As recently as 2017, ADC helped to coordinate local investors to partner and build a premier destination long term care facility called Westfield Quality Care.  Today, Aurora Development Corporation has a fifteen member Board of Directors and a paid Executive Director to handle economic development.
You can support the efforts of Aurora Development Corporation Here. 
In 2021, the following businesses and individuals helped support economic development efforts: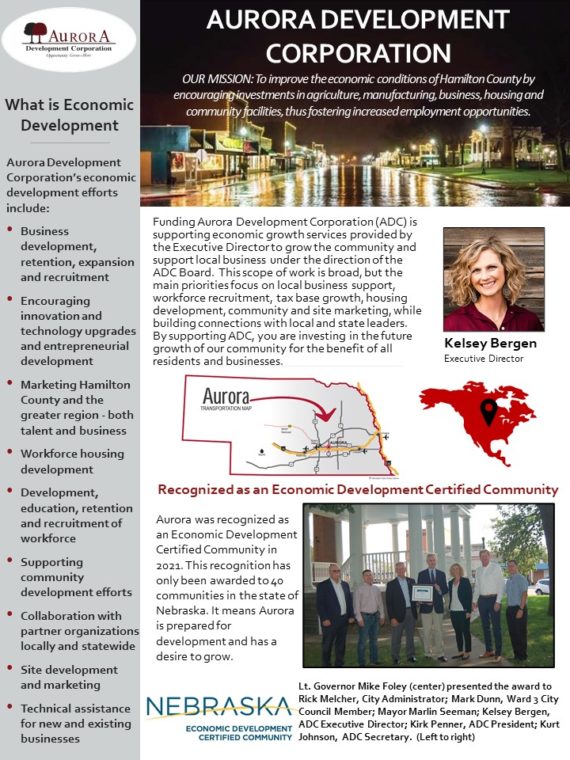 AKRS Equipment Solutions
Aurora Cooperative Elevator Company
Aurora Chamber of Commerce
Aurora Eyecare Professionals
Aurora Fitness Center
Aurora Insurance / GTA
Aurora Mall
Aurora News Register
Aurora Public Schools
Aurora Veterinary Clinic
Chief Industries, Inc.
Cline Williams Wright Johnson & Oldfather
Cornerstone Bank
Cornwell Land-Home Brokers
Diamond J Custom Services
Dohman, Akerlund & Eddy, LLC
Easy Lawn
Edward Jones Investments
Fiberglass Products, Inc.
Grain Place Foods
Hamilton Telecommunications
Heartland Bank
Heritage Bank
HydroScape LLC
International Sensor Systems
Interstate Battery Systems of NE
Jim's U Save Pharmacy
J-JACC Investments
Love's Truck Stop
McDonald's of Aurora
Memorial Community Health, Inc.
Mid-Nebraska Disposal
Mid-Nebraska Land Developers
Mike Nelson Land Development
Nitta's Bed & Breakfast & Catering
Norder Supply, Inc.
Ott Concrete Construction
Paschke Brothers Construction
Penner Manufacturing, Inc.
Pinnacle Bank
Roe Chevrolet Buick
Southern Public Power District
Steve Jacobsen
Subway
Sullivan Companion Animal Clinic
The Jewelers Vault
Thomas Realty & Auction Company
TO Haas Tire
Top Flite Corporation
Wasem Real Estate
Aurora Development Corporation is committed to reinvesting development funding back into future projects that grow our community and tax base.  In order to keep revolving those funds, ADC relies on the financial support of businesses and community organizations to fund our business operations. Thanks to these businesses, several successful projects were executed in addition to the general daily operations of the organization last year.   You can join these businesses in supporting the economic development effort in Hamilton County by completing the Funding Commitment Form below.